Your Dream Vacation is Here
Sinalei Reef Resort & Spa Upolu, Samoa
Sinalei Reef Resort & Spa is located on the Southern Coast of Upolu in the village of Maninoa, and is set amongst 32 acres of lush tropical gardens over-looking the stunning turquoise lagoon.
The Resort boasts both Samoan traditional architecture and contemporary luxury. Large traditional fales surround the property and house the reception area, conference room, and the restaurants and bars.
Handmade wooden carvings, woven materials and other local art can be seen and admired throughout the Resort.
All villas are spacious and well appointed. They are fully insect screened, air conditioned with ceiling fans and supplied with tea & coffee making facilities, a fridge, and a personal safe.
Onsite you will find a Spa, a sauna, tennis courts, a 9 hole resort golf course, gift shops, swimming pool, as well as two restaurants and two bars. A short causeway leads to the overwater Ava I Toga restaurant and bar which sits above a freshwater spring that bubbles up from below in the middle of the lagoon – it is literally one of the coolest places to swim at the resort.
In-House cultural activities are available and guests are encouraged to take advantage of the tours offered to experience the real Samoa, be it through the guided village tour, the Ava Ceremony, learning the art of weaving, how to prepare an Umu feast in the on ground oven (umu) or learning of the legends through storytelling. The resort also has a fishing boat and offer a Hook and Cook nautical experience.
New in 2018 will be the Signature Tours which will operate from the resort with the exclusive focus on Samoan Culture and activities with an experiential/adventure focus.
The Samoan feel of the property
You'll not only enjoy the Samoan architecture and the work of local artists as you wonder around the property but the tours offered to its guests allow you to experience the beauty of Samoa through cultural immersion and cultural learning by interacting with its people.
Small Intimate & Boutique Resort
The resorts 29 villas are set amongst lush tropical gardens, some villas enjoy the stunning views of the turquoise lagoon and ocean beyond. The property offers guests rest and ultimate peacefulness in its private and secluded location. It also has all the Resort facilities needed to compliment that long awaited relaxing holiday.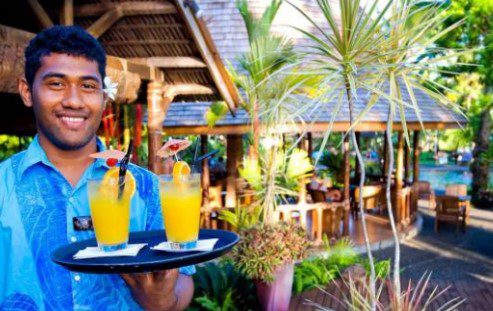 No Children Under 12 Years
Full Buffet Breakfast Daily
15 Minute Head & Shoulder Massage, Daily Afternoon Tea
Complimentary Use Of Kayaks & Snorkelling Gear
If Staying 5 Nights or More Transfers Are Complimentary.
Room Configuration & Layout
Sinalei Traditional Villa
1 Split King-size Bed + 1 Rollaway Single Bed for 3rd Pax
1 Split King-size Bed + 1 Rollaway Single Bed for 3rd Pax
1 Split King-size Bed + 1 Rollaway Single Bed for 3rd Pax
1 Bedroom Ocean View Villa
1 Split King-size Bed + 2 Rollaway Single Bed for 3rd & 4th Pax
*1 Bedroom Beachfront Villa
1 King Bed + 1 Tilt Away Queen Bed
*2 Bedroom Beachfront Villa
2 King Beds + 1 Tilt Away Queen Bed
*Note: the 2 Bedroom Villa is 3 separate units – Master Bedroom, Lounge & *1 Bedroom Beachfront Villa. Clients who book the 1 Bedroom will be accommodated in the Master Bedroom.
Sinalei Traditional Villa
1 Bedroom Oceanview Villa
1 & 2 Bedroom Beachfront Villa
1 & 2 Bedroom Beachfront Only
1 Bedroom Beachfront Villa
1 & 2 Bedroom Beachfront Only
Explore More Upolu Hotels
Book Hotel Sinalei Reef Resort & Spa Upolu Samoa