Hotel Kia Ora Resort & Spa - Rangiroa Deluxe Class
Hotel Kia Ora Resort & Spa is located on the northwest part of the atoll of Rangiroa, between the passes of Tiputa and Avatoru. Nestled in the heart of a magnificent coconut plantation, bordered by a white sand beach and a turquoise lagoon, the hotel boasts an elegant and refined architecture in perfect harmony with its environment. 
Since its complete renovation in 2011, the Hotel Kia Ora Resort & Spa includes 60 villas and bungalows with exceptional style, scattered throughout the coconut grove, on the beach an overlooking the lagoon.
Far from the hustle and bustle of urban life, resting between sky and sea, Rangiroa is a world by itself! It is a genuine natural aquarium, a mecca for scuba divers from around the globe, and qualified by many as the richest and most beautiful lagoon in the world. Nestled in a coconut grove, 
Hotel Le Maitai Rangiroa is located between the villages of Avatoru and Tiputa, facing a magnificent lagoon with infinite tones of blues.. From its pontoon, one can access directly to some very nice snorkeling spots; the underwater show is just outstanding… 
Pension Cecile - Rangiroa
The pension Cécile welcomes you in a friendly and family atmosphere with a dynamic Polynesian team at your service. 7 bungalows, simple and clean, await you along the lagoon. There is no beach on site but access to the sea is possible by the pontoon of the guest house. A common "fare" with sun loungers, bicycles, masks and snorkels, kayaks, balls of pétanque are graciously placed at your disposal.
 Dishes, mainly based on local fish, served in buffet-style are delicious and renowned throughout the island of Rangiroa.
Pension Les Relais de Josephine - Rangiroa
A superior class guest house situated 10km from the main village of Avatoru, Les Relais de Josephine welcomes you to a peaceful and wooded setting, on the banks of Tiputa Pass, the main attraction of the atoll. You can admire the dolphins at play in the currents from the large deck of the guest house. Its 7 colonial-style bungalows are comfortable, luminous, equipped with quality furnishings and a modern bathroom. 
The major  asset of this property is undoubtedly its excellent cuisine, recognized throughout the island, to enjoy in the company of other guests or in privacy.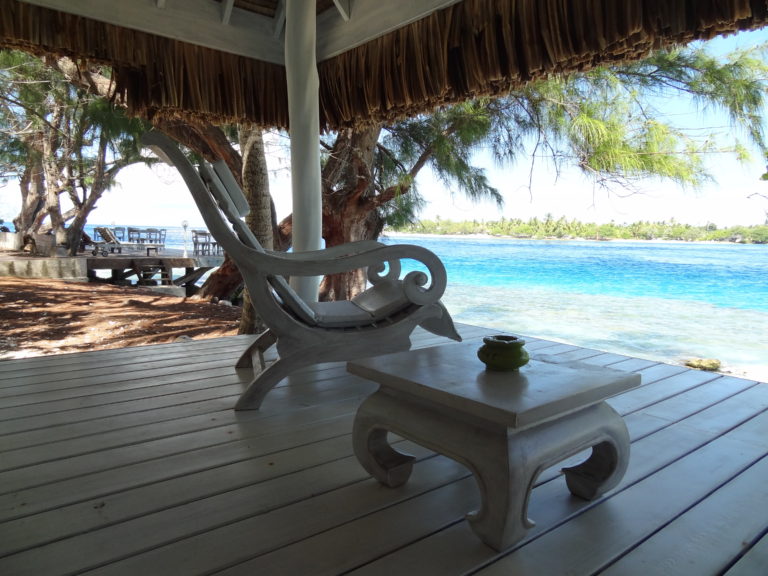 Pension Tapuheitini - Rangiroa
Pleasant family guest house located lagoon side between the village of Avatoru and Rangiroa airport. Marguerite, Luc and their daughterTapuheitini welcome you in their 3 bungalows with private bathroom.Clean and spacious, they offer a good comfort to its occupants. Mini fridge, fan, mosquito net and small private terrace will allow you to spend a pleasant stay. No beach on site but easy access to the lagoon. For the non-diver guests, you can swim in front of the guest house and discover the corals while Snorkeling .
Pension Va'a i te Moana - Rangiroa
The Pension Va'a I Te Moana is brand new in the tourist landscape of Rangiroa. Located a few minutes walk from the pass of Tiputa, it features 3 new bungalows including 1 unit with kitchenette. Cinthia and Andrea, young Italian-Polynesian couple and owners of the guest house already have experienced accommodating guests while living in Europe. 
They will take good care of their guests so that they will spend an unforgettable stay in Rangiroa.
The Raira Lagon, small family hotel, located in the main village of Avatoru on the island of Rangiroa, welcomes you in a quiet and friendly atmosphere. 10 air-conditioned, bright and well equipped farés (bungalows) await you in a garden full of coconut trees, hibiscus and palm trees. Its restaurant-bar overlooks a nice small crick with a beautiful view on the turquoise lagoon. 
Fora family vacation ora romantic getaway, divers or not, you'll enjoy your stay at Raira Lagon.
Pension Moana Breeze Eco Lodge - Rangiroa
Moana Breeze Eco Lodge is located in Tiputa in a quiet and preserved area. No need forair-conditioning to appreciate the comfort of its elegantly decorated and well-equipped bungalows surrounded by a tropical garden. Particularattention is paid to the protection of the environment and the preservation of resources: cleaning done with ecological products, rainwater collection for watering, micro-filtered drinking water fountain in each unit, cooking based on local seasonal products…
As a couple or with your family, you will appreciate the comfort and conviviality of the place as well as the gourmet cuisine offered by
your hosts.
Guest house recommended to nature lovers and diving enthusiasts.