Your Dream Vacation is Here
Luau and Rudi welcome you to Pension Taravanui, their property located lagoon side, on the main island of Maupiti. It features one room within their family home and an independent bungalow. Comfortable and nicely decorated, it offers a bathroom worthy of a 3* hotel and a terrace facing the marae of Vaiatu and the sunset. While sharing meals all together, enjoy the generous cuisine of Luau, homemade and prepared with fresh products of the island. No beach on site but free kayaks are available for you to reach the swimming area. To explore the island, choose to rent a bicycle. Do not miss this new address in Maupiti combining authenticity and comfort!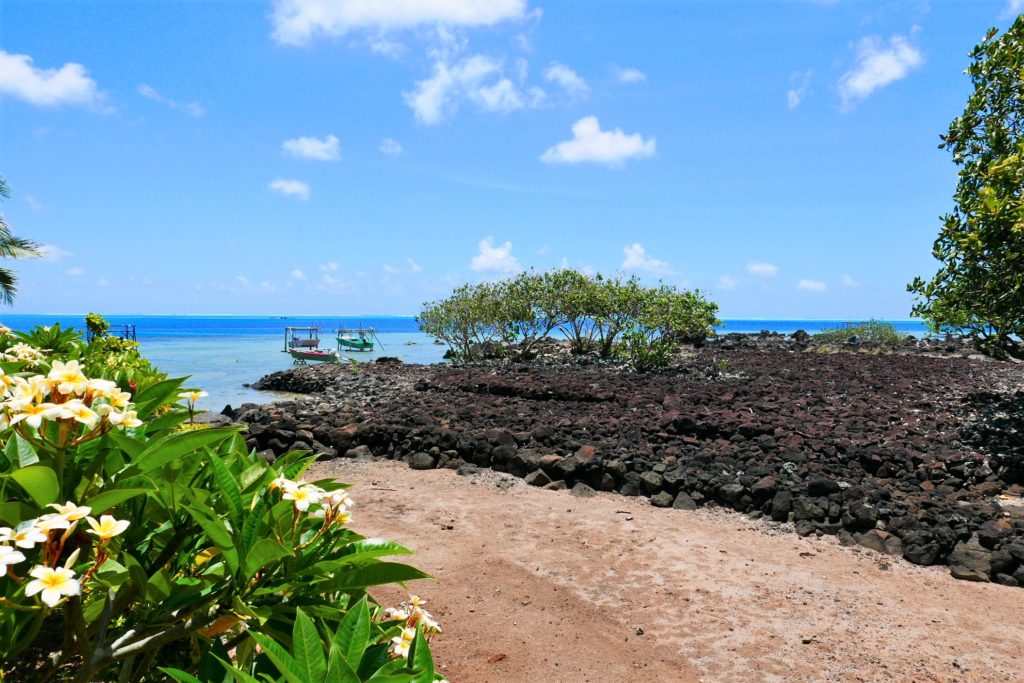 Pension Taravanui Location
Maupiti airport is located on an islet. Transfer to the main island is by boat via Air Tahiti shuttle (approx. 15 minutes) On the main island, car transfer from/to village pier is provided by the guesthouse Taravanui.
Flower lei upon arrival & departure .
Dining - Entertainment Features
Half Board includes a continental breakfast and a dinner.
Meals are served in the family home. The table is common for more conviviality. Continental Breakfast from 07:00am: Coffee, tea, bread, fruit jam, fresh local fruits, home made specialties Dinner from 07:00pm: Mainly fish based or poultries, vegetables or rice (depending on daily availability).
No bar but local beer, wine, punch and soft are available on request. 
Free WIFI access in public areas
Facilities and Activities
Lagoon Tour with picnic (approx. 65 euro TTC/pax) ; rental bikes (approx. 9 euro TTC/stay) available on site. Free kayaks on request.
Free Activities: Kayaks, Canoe
No specific equipment for kids.
Information on this fact sheet is subject to change without prior notice. 
This establishment belongs to the official category of "guesthouses & family hotels". The classification of these lodges has been set in order to clearly differentiate them from the "international hotels and residences" category, based on the following key elements
– A limited number of furnished units, generally located close to the family home 
– Facilities tailored to domestic standards, different from the international tourist hotels criteria
– Restricted catering, reception, and housekeeping service
– Limited staff, both in terms of numbers and professional training 
– Reduced taxes Thus, any restrictive diets, special physical conditions, arrival/departure outside of regular Check In and Check Out hours must be communicated to us before the reservation is made, and are subject to the approval of the establishment. While it is true that the level of comfort can not be compared to that of an international hotel, the commitment to hospitality remains nevertheless professional. 
No credit card accepted. 
Warning! There is no bank nor ATM on the island. We highly recommend to bring some local currency (XPF) for your extra expenses.
Pension Taravanui Room Facilities
Housekeeping every 3 days, Private Bathroom & WC,
Pension Taravanui Room Categories
New bungalow located in the garden of the property facing the lagoon. Comfortable and nicely decorated, you will appreciate its private bathroom and its small terrace from where you can admire the sunsets.
 Maximum Occupancy: 2A
 Bed Configuration : 1 Queen size bed
Additional Facilities: Mobile Fan, Mosquito Net
Explore More Maupiti Hotels
Book Your Pension Taravanui Stay