Ilocos Norte, Philippines
Created by: Jessa Sariah Mae D. Ramones
Ilocos Norte, Philippines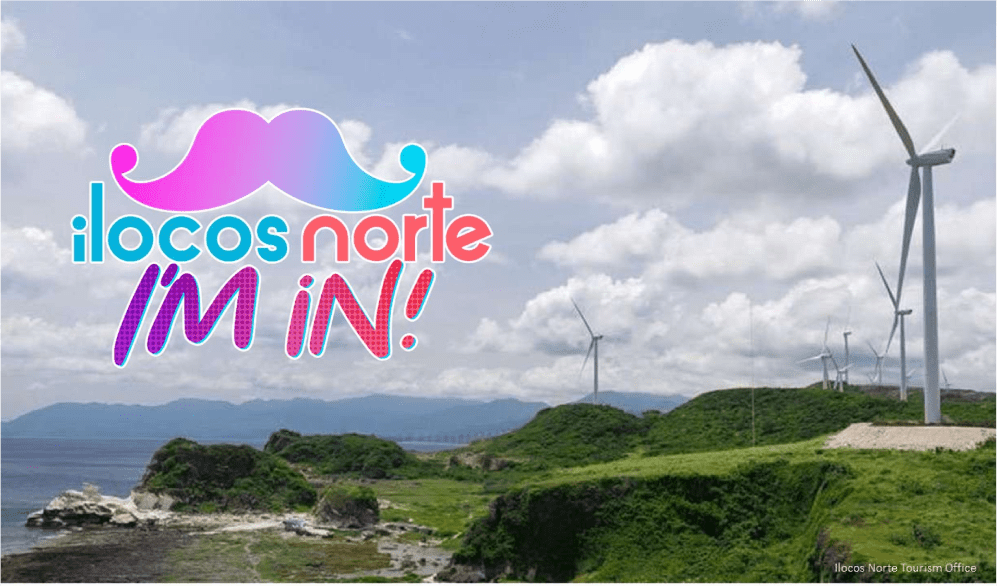 Your Dream Vacation is Here
Introduction : Ilocos Norte, Philippines
Welcome to the enchanting province of Ilocos Norte, Philippines! In this comprehensive article, we will take you on a virtual journey through the captivating beauty and rich cultural heritage of this incredible destination. From its pristine beaches to majestic mountains, from historical landmarks to thrilling adventures, Ilocos Norte has something to offer every traveler. Join us as we explore the transportation options, accommodations, mouthwatering cuisine, exciting activities, and even provide you with a detailed itinerary for your dream vacation. Get ready to be mesmerized by the wonders of Ilocos Norte and start planning your unforgettable getaway today!
Ilocos Norte is a province located in the Ilocos Region, at the northwest part of the Philippines. There are two cities in the province, Laoag City as its capital, and it compromises 21 municipalities. Annually, the province celebrates Tan-ok ni Ilocano Festival of Festivals to showcase Ilocano culture and creativity. Locals are called Ilocanos and Iloko is the common dialect, although English and Filipino are widely used. The province is also known as the renewable energy capital of Southeast Asia.
Before the coming of Spaniards, merchants from Japan and China would often visit this extensive region (consisting of neighboring provinces) for its gold mines and to trade for gold with beads, ceramic and silk. It was believed that the early inhabitants to be Malay origin, called their place "samtoy" from "sao mi toy" which literally meant "our language."
In 1571, Spanish colonizers were looking for new sites to conquer. Juan de Salcedo, led that expedition and headed to north together with eight armed boats and 45 men. On June 13, 1572, Salcedo and his men landed in Vigan and proceeded to Badoc, Currimao and Laoag. With the numerous sheltered coves "looc", where the locals lived, they named the region "Ylocos" and the people "Ylocanos". 
Since then, Christianization grew in the region and a number of Ilocanos revolted against the colonizers because of the abusive practices of Augustinian friars. Gabriela and Diego Silang are one of the heroes who led the revolutionary wars in Ilocos. And with the growing population in 1715-1818, Ilocos Norte was divided from Ilocos Sur through a Spanish Royal Decree in February 2, 1818.
The Philippines, including Ilocos Norte, has a tropical maritime climate, it means that the weather is generally hot and humid. The province experiences only two seasons, dry season and wet season. Wet season is between June to October and dry season is between November to May. However, due to climate change, sometimes dry season is extended until June and Wet season is until November. During the wet season, the province experiences super typhoons, thus these months are the off-season of tourism. December to February are the best months to visit Ilocos Norte because temperature is refreshingly cool, but the peak season for tourists is during summer, April to May.
Tourism is one of the livelihoods of the locals and a major economic driver of Ilocos Norte with the numerous Hospitality and Tourism establishments, activities and sites offered by the province. In 2018, the Ilocos Norte Tourism Office (INTO) reported 3,000,963 visitors, 1,056% higher compared to 2012 tourist arrivals. With the historical places and churches in the province, tourist arrivals hit around 600,000 during the Holy Week in April 2019. The province's frequent visitors are mostly Filipinos via land transport (8 to 10-hour drive from Manila) and Foreign nationals arrive via air travel. Cruise tourism is also emerging in the province with the Star Cruises' Superstar Virgo docking at Currimao port for the past years, and recently Royal Caribbean Cruise's Spectrum of the Seas docked at the neighbor province and afterwards passengers had a short excursion around Ilocos Norte. Tourists come to this place to experience the diverse tourism of Ilocos Norte: thrilling adventure activities, white sand beaches and vast mountains, historical places, tribal communities, good food, and the hospitable locals. Usually, tourists stay for two nights and three days in the province to visit the top tourist attractions, this is the common travel itinerary offered to the tourists. Ilocos Norte uses Philippine peso currency, foreign nationals can exchange their money on the different Forex facilities around the province.
Air: To get to Ilocos Norte by air, take a 45-minute flight from Manila to Laoag City, only via Philippine Airlines. Laoag International Airport is the only airport in Ilocos Norte, located at the capital city, and serves the nearby provinces.
Water: The main seaport of the province is the Currimao Port, 39 minutes away from Laoag City. Star Cruises' Superstar Virgo docks at Currimao Port but only seasonal, and recently Royal Carribean Spectrum of the Seas docked at Salomague Port (Ilocos Sur).
Ground: Ilocos Norte is 477 km away from Manila. The best way to get to the province is via bus travel, various bus lines (Fariñas, Florida, Partas, Maria de Leon, RCJ and GMW) serve the Manila to Laoag route for an 8-hour to 9-hour drive. These bus lines are all based in Ilocos Norte. Private transportation is also highly recommended.
Getting around ilocos norte
The province is 3,504 km² and there is various public land transportation in the area like bus, jeepney and tricycle for an affordable way to get around. The minimum rate of bus for each person is P30, P20 for jeepneys and P11 for tricycles, higher rates are charged for further kilometers and depending on the destination. If you want to feel the Spanish vibe, you can also try the calesa (a horse-drawn box-like carriage on two wheels) to roam around the city proper of Laoag City for only 15 pesos each and depending on the kilometer. Recently, LTFRB opened a taxi franchise in the province, you can book a ride through Arkila app, P40 is the flag down rate. The tourist destinations are away from each other so it is highly recommended to rent a car via travel agency or your hotels. The average price is P3,500 for the whole day with a private chauffeur.
There are various types of lodging buildings in Ilocos Norte, from inns to resort hotels, that fits perfectly to any kind of travelers and events. Tourists can choose more than hundred types of accommodation depending on their needs. There are budget-friendly hotels for those who are saving, luxurious and convention hotels for business travelers, resorts that appeal to adventure travelers. Hotel room rate depends on type of accommodation, room and occupancy. Below are some of the best hotels around the province:
| Name | Category | Cost | Amenities | Audience | Stars |
| --- | --- | --- | --- | --- | --- |
| Fort Ilocandia Resort Hotel | | | Airport transportation, Beach, Recreational activities, Garden, Business Center | Families, Adventurers, Newlyweds and Business travelers | |
| | | | Pets allowed, Beach, Glamping huts, Tents | Group of friends, Newlyweds, Families, | |
| | | | Recreational Activities, Restaurant, Balinese and Moroccan inspired interior, Business center | Newlywed, Business travelers, Families | |
| | | | Free breakfast, Car hire, Massage | Families, Newlyweds, Budget Travelers | |
| AA Traveller's Pad Bed & Breakfast | | | Car park, Room Service, Airport Transfer, Massage, Karaoke | Budget travelers, Families | |
| Ilyn's Homestay and Restaurant | | | Located in the mountains, Restaurant, Tents and private bungalows, Water Garden | Families, Newlyweds, Group of friends, Adventurers | |
Other than hotels, there are more various transient homes and mountain & beach resorts to choose from. Further, there are under construction resorts and homes to soon cater the needs of travelers. Here's a short list for budget travelers that still want adventure and comfort in travelling.
| NAME | Category | Cost | Amenities | Audience | Stars |
| --- | --- | --- | --- | --- | --- |
| | | | | Families, Adventurers, Newlyweds and Group of friends | |
| | | | Pets allowed, Beach, Huts, Tents | Group of friends, Newlyweds, Families, | |
| Pikkan Falls Mountain Resort | | Cottages – 500 Tents- No costs yet (on planned) | Water falls, Natural pool, Tents, Cottages | Adventurers, Groups of friends, Families | |
| Ar-ar-o Picnic and Camp Ground | | | River stream, mountain, camp ground | Adventurers, Groups of friends | |
| Ilocano's Way Transient House | | | Tour and Van transport, Kitchen | Families, Budget travelers, Group of friends | |
Ilocos Norte is also known for its local cuisine, and the provincial government aims to promote gastronomic tourism in the province. There are various types of options in the area; aside from quick-service restaurants, casual restaurants and fine-dining restaurants, there are also many street food vendors and small eatery establishments where your one dollar is already good enough to fill your hungry stomach. Coffee and tea shops are also widely available in the province, almost in every corner of the street. For night outs, most restaurants offer wine and beer beverages, and there are also other establishments (Resto bars) that offer snacks and beverages with KTV. Aside from local cuisine, many restaurants also offer International cuisine like Italian, American, Korean (mostly samgyupsal) and Chinese. Tourists usually eat at restaurants who offer Ilocano cuisine, their favorite dish is Pinakbet (variety of vegetables), Bagnet (fried pork belly), and the very famous Empanada snack. For seafood lovers, a lot also offers fresh seafood and grilling in the province. I highly recommend to try to eat in not well-known eateries especially those besides the street because it really where the authentic local cuisine is and it is very cheap; but beware because not all small establishments follow food safety protocols. Below are some of the most recommended restaurants inside the province.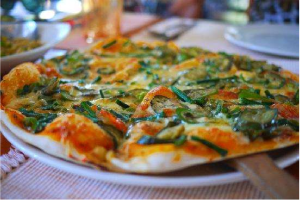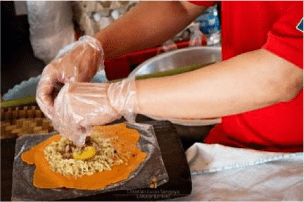 Quick-Service Restaurants
| Name | Cuisine | Meals | Features | Price |
| --- | --- | --- | --- | --- |
| | | | Party Area Delivery Drive-thru Seating | |
| | | | Party Area Kid's playground Delivery Drive-thru Seating | |
| | | | | |
| Name | Cuisine | Meals | Features | Price |
| --- | --- | --- | --- | --- |
| | | | | |
| | | | | |
| Kamalig Grill & Restaurant | | | Takeout, Outdoor seating, Parking, Reservations | |
| Name | Cuisine | Meals | Features | Price |
| --- | --- | --- | --- | --- |
| | | | Takeout, Reservations, Seating, Accepts credit card | |
| | German, Filipino, European | | Reservations, Outdoor seating, Wheelchair accessible, Takeout | |
| | | | Reservations, Takeout, Table service, Takeout | |
Meetings and Event Locations
1. Plaza del Norte Hotel and Convention
It is located in Paoay where three of the most visited tourist sites can be found. It also features sprawling gardens and a pool for outdoor events. Its Convention Center can accommodate a maximum of 1500 guests and the space can be divided into smaller rooms for fewer attendees.
2. Hannah's Beach Resort and Convention Center
It is located in the northern part of the province, where the beautiful white sand beaches can be found. Its convention center can accommodate 300-400 people and other function pavilion or halls are up to 60 people. The family can also have fun on their beach activities like banana boat and ziplining.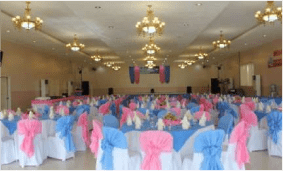 3. Century Gardens Hotel
The place is secluded from the city so attendees can relax and have fun in the garden and in the pool. Family reunions are really perfect here as they can have grilling and outdoor activities.
4. UKL Resort
A budget simple family-friendly resort where guests can have fun in the pool and cottages. A function hall is also available for more than 50 guests.
5. Java Hotel
Its garden and majestic venetian halls are perfect for family reunions. Additionally, recreational activities like wall climbing will keep the guests entertained!
6. Arabella's Event Place
The event place has been in the food catering business since 1992, it has 2 function halls and a garden that will be really nice for a family reunion.
7. North Stellar Events Place and Hotel
A new booming hotel with its swimming pool as the center of attraction, families will have fun with the scenic view as well.
8. Tropical Playa Resort and Hotel
It is located at the South part of Ilocos Norte with its intricate design from Bali with the Ilocano Hospitality. Family reunion is perfect at the beach or at their Bali cottages.
9. RO-Hill Events Place
Its refreshing ambiance on the top of the hill and the pool are perfect for a family reunion especially for the kids. They create events for the guests to celebrate.
10. Grand Octagon
A classic beauty property that offers classical experience reunion for the family. They can make use of the barbeque facilities or relax with a hot beverage at the garden.
Out of the ten recommended places for the family reunion, it is highly proposed the Plaza Del Norte Convention, Java Hotel and Hannah's Beach Resort because of their disability-friendly facilities — wheelchair access is available.
Recreation and Entertainment
If you are looking for fun, historical and adventure, then look no further and head to Ilocos Norte. The province offers a wide variety and diverse activities and sites that will definitely bring tourists back in the past while learning the local's culture with a mix of adventure. One reason why tourists come to Ilocos Norte is because of the Sand Dunes experience where tourists can have fun in the sand and sun through sand boarding, ATVs and extreme 4×4 rides. The Philippines had been conquered by Spaniards for more than 300 years, thus there are a lot of historical landmarks all over the country and Ilocos Norte has a lot. Additionally, the museums, historical sites and landmarks (e.g., Paoay Church, Cape Bojeador, Sinking Bell Tower, Sarrat Church and many more) are the top reasons why tourists (especially pilgrims) visit the place. There are also new activities booming in the province like kayaking, diving and bike zipline that draw adventure tourists. Furthermore, new hiking trails and waterfalls are also being discovered and getting popular that attracts travelers recently. Lastly, events like Oktoberfest, Himala sa Buhangin (concert) and Festivals (e.g., Pamulinawen Festival and Tan-Ok ni Ilocano) attract tourists and let them experience the culture of locals. Whatever fun or adventure tourists are looking for, they are IN! Here are the top things to do and see in Ilocos Norte:
Sports & Recreation Spas:
Arts, Culture, Entertainment:
4 Day of fun in ilocos norte : An itinerary for a group of friends
DAY 1: A JAM PACKED FIRST DAY
Be ready! It's still the first day but you will taste different offers of Ilocos Norte: history, pilgrimage, adventure, blue water, culture and food!
MORNING: LA MILAGROSA COVE, BADOC ISLAND, MINOR BASILICIA OF BADOC AND LUNA SHRINE
The La Milagrosa Cove is a chapel and built like an upturned boat with bamboo fittings and maritime decorations. From there, a 10-minute boat ride is costs 1,500 pesos ($33) to Badoc Island. It is still a virgin island, no amenities and facilities, only white sand and blue water; there, you can have a free diving. After that, you will visit the Minor Basilica of Badoc and meet the famous Luna Brothers (a national hero and a renowned painter) at Luna Shrine.
AFTERNOON: PAOAY CHURCH, MALACANANG OF THE NORTH, PAOAY LAKE, PAOAY SAND DUNES, FEM CENTER AND BATAC RIVERSIDE
Paoay Church is one of the UNESCO Heritage sites and there are nearby casual & fine dining restaurants where the group can have lunch. Get to know the most controversial president of the country at Malacanang of the North and have a view of the Paoay Lake. Have a thrilling adventure at Paoay Sand Dunes with 4×4 jeepney and sand boarding experience. Grab a bite of the famous Empanada in Batac Riverside. End the tour in the East with getting to know more the most controversial president at FEM Center.
A variety of accommodations are available at the city proper and you can spend the night exploring the city through walking or riding a calesa.
DAY 2: AROUND THE CITY AND JOURNEY TO THE NORTH
This day is also a mix of all and prepare for the ride to the northern part of the province.
MORNING: ILOCOS MUSEO, TAOID MUSEUM, SAN NICOLAS POTTERY, SARRAT CHURCH AND SARRAT BINAKOL WEAVING
Immerse in the culture and history of Ilocos Norte and Cordillera region at Ilocos Museo and Taoid Museum where you can step into the lives of Ilocos' ancestors and their traditional way of living. Let your hands be dirty in making clay pots or known as "Damili" at San Nicolas. Head to the east to visit the Sarrat Church to be filled with Spanish vibes and then interact with the local weavers of the local textile called "Binakol". Before leaving the east, have lunch at the only hotel in the town.
AFTERNOON: VINTAR DAM ADVENTURE, BACARRA CHURCH, MUSEO AND BELFRY, PASUQUIN SALT MAKING, BURGOS LIGHTHOUSE AND KAPURPURAWAN ROCK FORMATION AND WINDMILLS WITH HORSEBACK RIDING.
Be ready to have fun in the sand, air and water with activities offered at Vintar Dam like zipline bike over the river, kayak, ATV, floater and zurball with fees ranging 50 pesos to 1,000 pesos ($1-$50). Take a solemn rest at Bacarra church, explore the town with is museo and be filled with awe at the top of the Bacarra Belfry. Stop by at Pasuquin to witness on how locals make their salt. Climb to the Burgos Lighthouse to see the magnificent view of the West Philippine Sea. Finally, explore Kapurpurawan Rock Formation and Windmills through horseback riding.
Now, you have reached the north, let the white sand and blue water give you rest from the tiring day. A lot of budget and luxury resorts & hotels are available in the north.
Get tan in the sun and enjoy the day with fun water activities.
MORNING: LOVER'S COVE, MACAGUTUGOT COVE PASALENG BAY
Be amazed at the view from the Lover's cove. Head to the Macagutugot Cove Pasaleng Bay with a boat ride, 600 pesos ($15) with 5 pax, and enjoy the crystal water and raw beauty of the hidden beach. Go back to the resort for lunch.
AFTERNOON: HANNAH'S BEACH RESORT, PATAPAT VIADUCT
The resort offers fun water activities like banana boat, pedal boat, kayak, snorkeling and many more. The most popular one is the zip lining which is one of the longest zip lines over the water in the world. Banana boat is also a fun group activity with lots of laughs and screams. Price rates and other activities are available at Hannah's Beach Resort and Hotel website. Stop by at the Patapat Viaduct for a scenic view, then head to the mountains.
DAY 4: QUALITY TIME WITH NATURE
Make your last day worth it! Get lost into the woods and let it flow like the waterfalls.
ALL DAY: LOVER'S PEAK, ADAM'S HANGING BRIDGE, ANUPLIG FALLS, STRAWBERRY FARM AND INUWAYAN WINERY
Start your day with a beautiful sunrise at Lover's Peak. Have a picturesque view of the river, mountains and fields at Adam's Hanging Bridge. Take a two-hour trek to Anuplig Falls and have fun there! Going back to the town proper, stop by at Strawberry farm. End the tour, with a toast of local wine at Inuwayan Winery.
SWOT Analysis of Tourism in Ilocos Norte, Philippines
It has an International Airport in the capital city that serves the province and the nearby provinces. Philippine Airlines is the one carrier that flies in the province.
It offers a wide variety of tourism activities and attractions — natural, man-made, cultural, recreational, historical and many more. Thus, it caters different types of travelers.
The government (local and provincial), specifically the Tourism office or board, is very active in investing time and money on the promotion and tourism development of the province. Hence, they can reach and attract audiences internationally.
The nearby province, Ilocos Sur, is very active in tourism and it has one of the most visited heritage in the whole country. So, after tourists visito Ilocos Sur, they directly go the North, Ilocos Norte, to continue their Ilocos tour. 
This time of pandemic, Ilocos Norte teamed up with the other provinces within Region 1—four provinces in Luzon includes Ilocos Norte, Ilocos Sur, La Union and Pangasinan. Its teamed up is called "Ridge to Reef" and their tagline is "Find the One in Region 1". This aims to boost tourism in the four provinces in this pandemic.
Budget friendly tour. For only 3000 pesos ($70), travelers can now have 3-days 2-nights itinerary.
The province is 8-10 hours away from Manila. Hence, travelers (especially foreigners) often want to visit those nearby provinces of Manila.
Though it has an International Airport, only one courier is flying to the province. Thus, travelers don't have cheaper options for flights and they don't want to take the 8-10 hours land ride.
Lack of facilities or hotels for high-class people. Most of the hotels offer budget friendly amenities and services. There are no 4-5-star hotels. 
Poor public utilities like restrooms. Most restrooms are not appealing to the traveler's needs.
Provide better public utilities for the travelers. Invest money on sanitation, water, telephone communication and other needs of travelers.
Cater high-class travelers by offering high-class amenities, services and activities like building a 5-star hotel in the province and golfing courses.
Allow low-cost carriers like Cebu Pacific and Air Asia to serve the province. This way, travelers have more options of transportation.
Undeveloped and unknown tourism sites can be developed and promoted to the market.
Better road infrastructure to remote areas especially on the mountains — a better access to the falls and hiking trails is a must.
Natural calamities. Every year, there are a lot of typhoons passing by the province leaving tourism sites with destruction.
Coronavirus. This is the number one threat of the tourism industry right now and will still be a threat in the next few years.
Environmental destruction. A one natural attraction in the province is slowly being destroyed and losing its beauty because of too many tourists visiting the area.
Commercialization of culture that might lose its authenticity and genuineness.
This tourism report only shows the tip of the iceberg of Ilocos Norte's beauty. Ilocos Norte is rich in culture, food, nature, history, man-made and whatever you are looking for. Whether you are single who is trying to move on from a break-up, a couple who is on the honey-moon stage, a family finding a wonderful place to create a stronger bond and priceless moments, and a group of friends to take a fun adventure; Ilocos Norte is the right place for you. It may be an 8-hour long ride from Manila, but it will be all worth it when your feet finally step on the white sand beaches, mouth tastes the Ilocano flavors, eyes behold the gigantic wind mills, heart warms by the friendliness of locals and mind travels back in the past. Pack your bags on, book your tickets and enjoy the ride to Ilocos Norte. Until then, Ilocos Norte is waiting for you. Be IN! Umay kan! (Come now!)