Dumaguete
Created by: Rosemae Maagad
Your Dream Vacation is Here
Dumaguete City is a province also known as the City of Gentle People, is located in the Central Visayas region of the Philippines where I came from. It is the capital city of Negros Oriental. It takes up the southeastern part of the large island of Negros.
"Dumaguet" meaning to "swoop" comes from a legend where the frequent attacks of the Muslim Pirates on the coastal town and its power to attract and make the visitors stay. In the year 1901 of the 1st of May, the Americans in the province of Negros Oriental was built after the Philippine-American War. During the World War II, year 1942 of May, the city was occupied by the Japanese Imperial Forces. With the helped of the combined forces of the United States, Filipino Soldiers and the recognized Guerrillas, the city gained their freedom on April 26, 1945. Dumaguete City was then created on June 15, 1948, and the Republic Act No. 5797 was enacted and known to be the Revised Charter of Dumaguete City. It was believed that the island was first inhabited by Negritos, Austronesians, and later the Hans Chinese.
Since Philippines is close to the equator, throughout the year it entirely experiences rainy and dry season. Most months, Dumaguete experiences significant rainfall, with shorter dry season. According to the weatherspark.com, the climate of Dumaguete City can be described as "hot, oppressive, windy, and cloudy." The most humid month is in January which is 80.7% and the least humidity is the month of April which is 74.9%. Unlike the other islands, Dumaguete rarely experiences typhoons or other calamities because it is surrounded with mountains and is protected by nearby islands.
The best time of the year to visit the island is the "Ber" months through January
Dumaguete city is considered as one of the fastest-growing tourist and business travel attraction in the island. Since the city is known as an educational destination for the provinces and cities close by, most of the people that live here have a higher rate of speaking English. Dumaguete province has a low cost of living and beautiful sceneries which attracts a huge number of tourists for retirement. According to dumaguetecity.gov.ph, there were top 10 countries that normally visit Dumaguete, which includes Americans, Chinese, Japanese, Canadians, people from Hongkong, Australians, Germans, Spaniards, and even people from the United Kingdom. For the local Filipinos and other non-English speakers, they normally visit the place to learn and improve their English or pursue higher education. Some visit the place for fun, to enjoy the culture and diversity of the people who lived here, most importantly the "bayanihan" system where even if you are a stranger, they willingly offer help and treat you like a part of the community.
Despite the changes and modernization that the city made, Dumaguete has maintained its island vibe. Unlike other cities, Dumaguete is like a province-city life where there is no big rush, relaxing and friendly atmosphere, the street is cleaner, safer, and more environmentally conscious than any other place in the Philippines.
There is no exact timeframe in how long the tourists can visit the place, but foreigners can stay for 30 days and extend a little more time, and for local people, as long as they can afford the place, there is no limit for them to stay.
There is less opportunity for people who are seeking a job in the city. However, they do have a progressive development when it comes to IT firms, and call center or BPO companies. Other than that, most people relied on tourism, apartment, and house rentals for students who are studying here.
There are several ways to travel and visit Dumaguete such as car rentals, motorbikes, tricycles, buses, boats, trucks, planes, or name it and you can use it for a ride. Taking taxis to go around the island is not that popular, or not highly recommended because it is very pricey.
Air: If you are coming from Manila which is the capital city of the Philippines, the best and the fastest way to go there is to fly directly to the island. Just like all other airline industry, price range may differ according to your location, preferred time, accommodation and if you want to layover in some nearby islands like Cebu. The flight normally takes around 1 hour and 30 minutes, depending on the airlines. The most popular local airline is Cebu Pacific because of the cheap flights they offer, and the second is Philippine Airlines which is a bit pricey but worth the price. If you are coming from Cebu which is right next to Dumaguete, it will only take 50 minutes direct flight.
Water: There are 2 ways to get to Dumaguete if you choose to ride a watercraft. If you are coming from Cebu near Liloan Port of Oslob, you can just take a ferry bound to Sibulan Port which will only take you for 30-40 minutes. From Sibulan Port, you can take a jeepney or "multicab", tricycle or motorbike going to Dumaguete City which is only around 20-30 minutes maximum. If you want to enjoy and take more time enjoying the water, then you can take longer ride which will take 14- 15 hours stopping by the other island. People do not take watercraft from Manila to Dumaguete because it will take days to arrive.
Ground: If you are coming from Cebu City and will choose to take a bus, it will take you around 3 hours ad 20 minutes depending on the traffic and the stop overs to arrive at Liloan Port to Sibulan Port. If you will rent a car or bring your own ride, it will take around 2 hours to arrive at Liloan Port. Riding a motorcycle from Cebu City to Liloan Port is not a usual transportation to use.
Getting around your location
Tricycle There are multiple ways go around the island, but the most popular, recommended and cheapest way is riding tricycle. There are some tricycles that offers exclusive use for tours, just make sure to search online so you can have an idea or information on the location or best route to get there.
Bus If you want to visit the nearby towns, you can take a bus. This transportation is ideal for long-distance travel within or outside Dumaguete.
Motorcycle Since Dumaguete has 3,362 hectares, with narrow roads, the fastest and perfect way for short city tour is using or renting motorcycle. You will see around the city that most people own this kind of transportation because it is easy and convenient to use. If traffics occurs, you can just turn around and find another route without disturbing other people.
Rental Cars or Vans The other way to go around the island is renting cars or vans. Make sure to search online or ask reliable people when planning it because sometimes they can be expensive especially to tourists. Taxis here is highly not recommended because it is very pricey, and not ideal to go around the island. There are other travel agencies that offers private tours in vans, but then again, it is pricey, and you have to make sure that you know well the agency. Most of the agencies on the website do not post their prices, and the best way to know is to contact them directly. Perks if you are from United States of America, if you have $100-$500, you can go anywhere because if you convert a dollar to Philippine Peso, it is equivalent to 49 pesos which is a good meal for 1 person already!
Alternative way to move around the Island Because the island is very diverse, often times, you will see foreigners walking around or just riding their bikes to keep themselves fit, or just to stay away from the traffic.
With a wide range of accommodation choices, Dumaguete City will help you enjoy your time, and free you from stress and workloads. Depending on your type of activities, purpose of visit, and budget, its accommodation offers you from luxury beach/hotel resorts to one-night stop hotel, you will definitely enjoy it with a very affordable cost. Various types of amenities are provided according to the chosen place, with a breath-taking scenery and outdoor activities.
Atlantis Dive Resort Dumaguete, is located in Dauin, a province of Negros Island. It is the most popular place to unwind and relax from your busy life. Being surrounded with water, the place is rich with various type of sanctuaries and marine life. With forty-four (44), the elegance and modernized design of the of resort won't take away that island vibe when you visit the place.
NAME

Category

Cost

Amenities

Audience

Stars

Atlantis Dive Resort Dumaguete

Luxury First-class Resort

The stay per night ranges from $192- $325 with tax depending on the room choice.

- They welcome the guest with a massage.
- A 24-hours room service, airport transportation, and luggage storage.
-Each room provides an "air condition, with mini-bar, ceiling fans for extra convenience during hot weather, private showers with bathtub, cable TV, safety deposit box, coffee machine, DVD player and refrigerator."
- For outdoor experiences, you can enjoy the pool outside where you stay, kayaking, snorkeling (equipment are being provided).
- They also provide lessons for beginners who are learning to dive.
- The resort offers a full service spa and laundry service.
- They can also make arrangements for tours and activities within the island.

With the diverse background of the island, the resort/hotel welcomes everyone; families, friends, local, and international tourists.
If your preference is a busy-city lifestyle, close to night life activities, but convenient for businesses, Hotel Essencia will be the best choice for you. With 150 fully airconditioned room with the basic amenities, this hotel is often the choice for business travelers and for big events such as party, business meetings, conventions and etc. The location is in the city area of Dumaguete City, a 2.9km ride away from the airport, and a 1.3km drive to Dumaguete Seaport.
NAME

Category

Cost

Amenities

Audience

Stars

Ranges from $40 to 120 per night and according to the room choice.

-Basic amenities are provided.
- Electronic keycard system.
- Complimentary breakfast buffet at their own restaurant.
- Souvenir shop and a spa.
- Shuttle bus given to guests.

Anyone can come to this hotel. From family and friends, business travelers, teenagers, local and international tourists.
With a very limited yet a very luxurious place to stay in, Salaya is one of the resorts that should not be missed. The elegant and modernized design and ambiance with a combination of its natural beauty calls out for people wherever they are. It is built "using a mixed of modern and traditional craftmanship" with only 9 rooms, people still always come here to visit this place.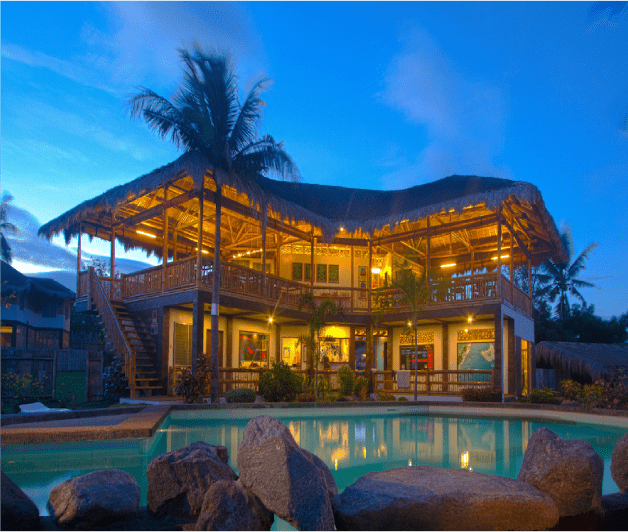 NAME

Category

Cost

Amenities

Audience

Stars

Ranges from $270 to $460 per night depending on the room choice with tax.

-Luxury Apartments and only two (2) penthouses.
- They have various food choices, from organic, vegan, paleo and gluten free options to traditional Filipino style food.
- They also offer spa and massage to guests. - World class diving and snorkeling is the most featured activity here. They also offer canoeing.
- Live music performance, yoga and cooking classes.
- All equipments for outdoor activities is being provided.

-Most popular to foreign and outside the island tourists.
- Recommended for couples, large family with kids, and people who loves outdoor activities.
If you are looking for a place to stay where you will feel like it is "home", where the price cheap even if you stay for a longer period of time, this is the best place for you. Close to all fun and entertainment activities, this Airbnb provides a place where you can enjoy, relax, and feel comfortable at home with your air-conditioned space. Close to universities, business establishments, parks, tourist spots and many more.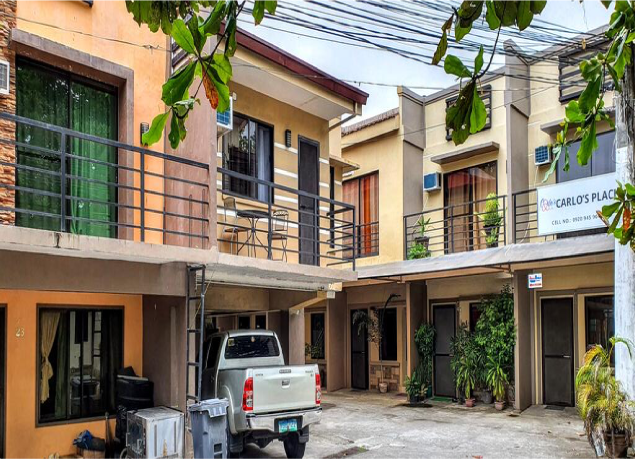 NAME

Category

Cost

Amenities

Audience

Stars

C24*Dumaguete* Carlo's Place

One room cost $20 per night.

-Basic amenities are provided.
- Kitchen, hair dryer and iron.
- Wi-Fi and Free Parking - Generator

-Ideal for any visitors, both foreign and local people.
- Highly recommended for families and friends.
If you want to retire, give a life to your loved ones or yourself, this is the best place to "live a life to the fullest". With a mid-rise condo structure, this is one of the only few condominiums in Dumaguete City. With a mixed of modern and traditional style, this place has been considered as one of the places to relax and be home.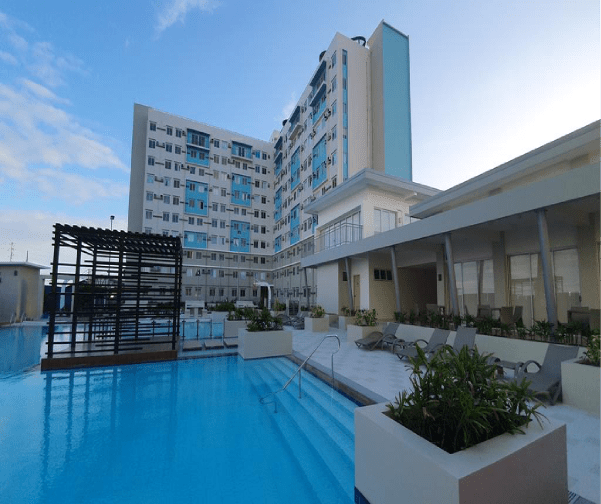 NAME

Category

Cost

Amenities

Audience

Stars

Price ranges from $6,2000 to $14,600 per unit.

- Basic amenities are being provided.
- Swimming Pool and Pool Deck.
- Outdoor Activity Area.
- Clubhouse, Lounge, and Gazebos.
- Basketball Court

- Ideal for couple, friends, and families, or anyone who wants to buy a property in the island.
Bethel Guest House has been accredited and recognized by the Department of Tourism in Dumaguete City since 2009 up to now. Being located along the popular Rizal Boulevard, this place has been famous for all local and foreign people all over the world. The destination is close to all entertainments, business establishments, universities, parks, theaters and tourist attraction. From airport to here, it will only take you around 30-40 minutes and 3 minutes to seaport.
NAME

Category

Cost

Amenities

Audience

Stars

Ranges from $20 to $90 per night depending on the room choice

-Basic amenities are provided.
- Souvenir shop.
- Laundry and room service
- Function rooms and restaurant
- Sauna

-Ideal for any visitors, both foreign and local people.
- For couple, friends, families, and anyone who is travelling for business.
With the influence of the different styles, techniques, and food preferences, Filipino food has been adapting and evolving their food cuisine over time. Another thing that influences the diversity of the food in the Philippines is the accessibility of their food source. Having rich resources of food from fishing to farming and hunting, it allows them to prepare various types of cuisines from all over the world. Another unique feature of Filipino cuisine is our love for rice. Being part of the Asian countries, rice is one of the staple foods in the Philippines. For any type of meal, you will always find rice as part of our main course. Since Dumaguete City has a lot of foreigners, you will also find various eating places or restaurants that offer different types of food such as American, Asian, British, and even our very own street food. One of the most popular and most visited food in the island is the Silvanas or Sans Rival. It is a desert that can only be found in Dumaguete and many tourists, both local and international people will intentionally visit this place just to have a taste of this mouthwatering desert. For lunch or dinner time, most of these restaurants are very busy, so it is highly recommended to go early or have a reservation.
Quick-Service Restaurants
| Name | Cuisine | Meals | Features | Price |
| --- | --- | --- | --- | --- |
| | Fast Food and Local Filipino | | Dine-in, Takeout, Delivery, Drive-Through, and App Ordering | |
| | Fast Food, Filipino Food, Desserts, and Pastries | Breakfast, Lunch, Dinner, and Brunch | Dine-in, Takeout, Delivery, and App Ordering | |
| | Fast Food and Filipino Food | | Dine-in, Takeout, and Delivery | |
| Name | Cuisine | Meals | Features | Price |
| --- | --- | --- | --- | --- |
| | | | | |
| | | | | |
| | Local Filipino, Bar, and Seafood | Lunch, Dinner, Brunch, and Late night Food and Drinks | Dine-in, Takeout, Live Performances | |
| Name | Cuisine | Meals | Features | Price |
| --- | --- | --- | --- | --- |
| | Vegetarian, Asian, and American | What meals do they serve? | | |
| | European and International | Breakfast, Lunch, Dinner, and Brunch | Dine-in, Takeout, and Delivery | |
| | Local Filipino, Asian, and Vegetarian | Breakfast, Lunch, Dinner, and Brunch | | |
Being located in a developing city, you will have a little bit of a hard time looking for an ideal place to hold big events. With the area of 12.98 square mile, most of the spacious venues can be found on suburban area or far from the city. Most of the establishments in the city prefers to build taller building to maximize their land area. 
With the list below from the most ideal venue to the least likely ideal one you will find different unique things from each other. Although all these venues offer accommodation for people with slow mobility or disability like wheelchairs or supporting equipment, the first 3 names on the table are the ones that are highly recommended for people who loves party with great ambiance.
| Name | Description |
| --- | --- |
| Negros Oriental Convention Center | Most of big events such as Palarong Pambansa, meetings of government officials, debut, graduation, and other big events takes place in this building. Because of its accessibility to the city and other government facilities, most people prefer this area for holding any events. |
| | Bethel Guest House has been accredited and recognized by the Department of Tourism in Dumaguete City since 2009 up to now. They offer catering, big parties, conventions, and meetings. It can fit more than 100 people in their function area. |
| | With the touch of the Spanish influence with mostly antique designs and furniture, this place will really take your breath. With 50 – 60 people attendees, this will give you a taste historic or ancient vibe. Busy time is in the month of February till May. |
| Liquid Dumaguete – Beach and Dive Resort | With 14 cottages and spacious facility room, any grand events or meetings will be ideal to the place. They also offer amazing recreational activities for family and friends. |
| | With 6 meeting rooms that can hold up to 200 people, this is the spot for crazy live parties. Most of the people who used this place are schools for proms, debut, meetings, ceremonies like reception or graduation. They have high speed of wireless internet which is preferred by most youths. |
| | A peaceful resort located just the seashore is a place to visit for any types of events or gathering. This place is very ideal for families with children. You can rent the pavilion for only $26.00 and can fit around 70 people. |
| Port Royale Waterpark Resort | This amusement park is one of the newest parks on the island. With its new and big facilities for outdoor activities, this is definitely one of the most visited parks. Ideal for big events for family or friends get-away. |
| | An open area good for big activities and events. Normally they hold sports and concerts in this area. The disadvantage for this area is the weather. Since Philippines is a tropical country, you might consider when and what time you will book the place, preferably evening events. |
| | Located in a nearby town, quite a few people prefer this minimalistic venue for intimate or private event. The elegant chandeliers, basic set up for parties and with a limited of 40-50 people, this place is ideal for you if you have a tight budget but wanting to have a celebration. |
| | The city lifestyle and structure of this hotel is ideal for people who wants to celebrate their special occasion for their families and loved ones. With the capacity of roughly 50 people, this is ideal for smaller group of people and closest friends and families. |
Recreation and Entertainment
Being situated in an island, you will have so many opportunities to explore the island and the nearby islands, Dumaguete has a lot of things to offer to you. Your time here will never be wasted because every day, there is a room for adventure and fun! Most of the recreational activities that you will find here are land and water-based activities. Most of the places where you can go snorkeling or scuba diving are under the protection of the marine resource department. Many travelers are fascinated by the beauty underneath the ocean. All types of water activities can be found in this island, including the hiking, plus swimming under the amazing waterfalls all over the island. The hiking or campsites have a set of rules and regulations to keep and preserve the beauty of nature. To unwind and relax after that long hike and heat under the sun, you will find many places that offers massage and spa for a really low price. They have different and various types for massage and spa which will give you a lot of options on what you want when you want to just enjoy your time after that long activity. Although the island is full of historical events or background, they were not able to preserve its history in any museum, but they have historical walking tours. The places that you will see or visit, the festival or city events will tell you the story that took place in this island.
Sports & Recreation Spas:
Arts, Culture, Entertainment:
Fun in Dumaguete: Family of 5
Morning: Balinsasayao Tour 
One of the three crater lakes that you can find in the island of Dumaguete. It will only take you an  hour to get there either using a car or a motorbike. You can stop by to look around and appreciate  the beauty of the nature, buy some native accessories or items, and lastly, enjoy your tour by  crossing the lake. Renting a boat or a kayak can only cost you $50 with a local guide for an hour.  You can enjoy doing a small hike and swim close to the rockpool. Just prepare $200 for the entire  family for all the expenses, food, and other recreational activities you want to do here.
Afternoon: Pulang Bato Falls 
It is located in a commercialized area with so many options to visit for a hike or camp. There are 3  areas where you can swim and enjoy doing a body massage under the waterfalls. You can also  enjoy diving in there, or just relax and unwind in the manmade pool from the waterfalls. They also  allow people to rent cottages, order food and beverages. 
Morning: Malatapay Market
Going to Malatapay will take you 30 minutes to an hour, so it is best to go there around 7am or 8am. You can either take a public transportation or rent your own car. Every Wednesday at Malatapay, you will see fresh products from local farmers and fishermen. You can buy fresh crabs, fishes, squid or prawns, or buy a cooked dish. This is the perfect thing to do to prepare your trip to  the nearby island. 
Afternoon: Apo Island Marine Reserve
You will take a boat ride to get to Apo Island. Once you get there, you can do a lot of things from snorkeling adventure, trekking, hiking or even camping. This one-day plan will only cost you less than $500.00 for the entire family.
Morning: Alegria
From Sibulan Port to Alegria, it will only take you around 30-45 minutes. Being close to all the central tourist attraction, this is one of the sites that should not be missed. From hiking, swimming to waterfalls hopping, your day will be full of adventure and fun with your families. You will also enjoy different types of water-based activity in this area.
Afternoon: Kawasan Falls
Kawasan is just one of the many multi-layered waterfalls in the island. Its turquoise water entices people to keep on coming every year. There are 2 main waterfalls which is ideal for swimming and diving. The first one consists of 40 meters and the second one is 20 meters. You can enjoy going under the waterfalls using the bamboo raft and then enjoy the most popular activity here which is Canyoneering which is exploring the canyons by climbing, then swimming, sliding and rappelling. All these activities will only cost you $500-$600.
SWOT Analysis of Tourism in Dumaguete
Great destination for retirement.
City with a touched of a countryside lifestyle
Diversity
Most people speak English
Small and uneven roads 
Traffic jam 
Few establishments
Housing and businesses related to school or for students 
Foreign currency here has higher exchange 
People from provinces and other islands stays in the main city to get jobs
Typhoon
Crime-rate especially for foreign people 
Most businesses are owned by people who are not from the island or Filipinos
Dumaguete is one of the places in the Philippines that is now mostly visited by both local and foreign people. The beautiful scenery, the people who live here, and the diversity entices everyone to stay and part of the community. Being surrounded by water and close by islands, the opportunity to experience the different cultures of each island, and non-stop fun adventures are just some of the few things that should never be missed by the people who visit this place.
Another feature that you need to know about this island is that it is just newly developing. You might be only planning to enjoy and have fun on the island, but there are tons of opportunities for you as well. The opportunity to build a business or create networking is a great way to earn and live a life here. Most of the things that you will find here are really cheap compared to the other islands, so this is a very ideal place for you!