Your Dream Vacation is Here
Join the Aranui 5 on its voyages through the South Pacific. Here you will have a chance to visit the exotic Marquesas Islands.
The Aranui departs from Tahiti then visits islands such as Fakarava, Ua Pou, Nuku Hiva, Hiva Oa, Fatu Hiva, Tahuata, Ua Huka, Rangiroa, Bora Bora and back to Papeete (itineraries may vary).
Below you will find a sample itinerary and a description of what goes on each day on the Aranui. Or Read our Blog Here.
SPECIAL ANNOUNCEMENT: PITCAIRN ISLAND VOYAGE (2022 )
AUSTRAL & SOCIETY ISLANDS
Aranui 5 Pre and Post Cruise Add-On Options
Are you interested in any pre or post cruise add-on options for the Aranui 5 cruise? We offer a multitude of additional options for your cruise to give you the best possible travel experience. Add on hotels, sightseeing experiences and more. For a full list of popular Aranui 5 cruise add-on options, visit our Add-Ons page. 
Embarkation Time: 2 – 4 pm
Departure Time: 6 pm, Return Time: 7 am
Embarkation Time: 7 – 9 am
Departure Time: 12 pm, Return Time: 7 am
Embarkation Time: 7 – 9 am
Departure Time: 12 pm, Return Time: 8 am
Embarkation Time: 1 – 3 pm
Departure Time: 5 pm, Return Time: 8 am
Embarkation Time: 7 – 3 pm
Departure Time: 4 pm, Return Time: 6 pm
Sample Aranui Cruise Itinerary & Blog
Aranui Cruise Day 1: Papeete, Tahiti
You will depart in the morning and set sail for your exciting adventure aboard the Aranui 5.
Aranui Cruise Day 2: Tuamotu Archipelago, Fakarava
Fakarava is one of the many atolls in the Tuamotu Islands, the first of which has been designated a UNESCO Biosphere Reserve. The beach and crystal clear water is a popular spot for people of all levels to participate in snorkeling and swimming and to watch schools of brightly colored fish in the lagoon. Time is also available to wander around the small village of Rotoava to see the church built of coral and local arts and crafts. You may also rent a bicycle to visit the old lighthouse at the airport.
The entire morning will be spent on the island. Later in the day, we take off for the Marquesas.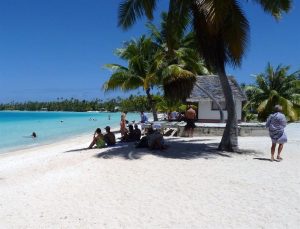 Aranui Cruise Day 3: At Sea
You can relax in the pool, read a book on one of the sun decks, or just enjoy views of the peaceful South Pacific ocean.
The Polynesian crew will treat you as their welcomed guests, happy to talk about where they are from and introduce you to their rich culture. Many evenings the crew will sing and strum on their ukuleles, songs and rhythms from their home islands.
Aranui Cruise Day 4: Nuku Hiva
The Aranui sails into Taiohae Bay, an incredible volcanic amphitheatre filled with towering cliffs and covered in waterfalls. As the Aranui unloads it's cargo, you are free to explore Taiohae, the small Administrative capital of the Marquesas Islands
Aranui Cruise Day 5 - The Marquesas Archipelago – Ua Pou
From the Aranui deck, you will see the soaring mountain peaks of Ua Pou. When the Aranui stops in port, villagers greet it as the crew unloads supplies. The Aranui brings supplies to the small islands with everything from cement and sugar. They then load up the local traditional copra (dried coconut meat) to be brought back to Tahiti. In the small town of Hakahau you can explore its ancient church with a hand-carved wooden dais. You will also have the opportunity to meet talented woodcarvers and take a hike up a breathtaking mountain for a view of the distant cloud-covered hills.
At Rosalie's Restaurant, you will experience your first true Marquesan lunch: breadfruit (a marquesan staple food) along with barbecued rock lobster, curried goat, taro, poisson cru (raw fish soaked in coconut milk and marinated in lime juice), and sweet red bananas.
Aranui Cruise Day 6 - Ua Huka
Ua Huka is small but beautiful island. We will see a presentation of island dancing from a group of locals, visit a market where the islanders sell there drums and handicrafts and then visit a mountain view point with a stunning view of the island.
Aranui Cruise Day 7 - Tahuata & Hiva Oa
This little town only a few years ago, was opened up to the rest of the island when it received access via a small road. As a result the first cars in this village only appeared around that time. It is a very traditional village that has kept its friendly traditions and old way of life. Later in there day you will have time to get off the Aranui and explore Atuona, the second largest village in the Marquesas. This is where Paul Gauguin lived died and created some of his best works of art
Aranui Cruise Day 8 - Fatu Hiva
Because Fatu Hiva does not even have an airport, it is the most remote and adventurous island on the Aranui's cruise itinerary. In Fatu Hiva you can take the optional 10 mile, 4 hour hike through the lush tropical mountains or explore two of the most remote villages in the Marquesas Islands!
Aranui Cruise Day 9 - Hiva Oa
You may have the option to walk or rent a jeep to visit an archeological site up the hillside. Here you can participate in a lecture on this historical site and find out more about the people who made it.
Aranui Cruise Day 10 - Nuka Hiva/Ua Pou
On day 11 we have a chance to visit an ancient Tohua (Marquesian gathering place) where we learn about the ancient uses of this site. Also we will have the opportunity to see some traditional Marquesian dancing and real petroglyphs.
Aranui Cruise Day 11 - Out On The Ocean
You will get the opportunity to enjoy views of the ocean, swim in the pool or a variety of other Aranui facilities.
Aranui Cruise Day 12 - Tuamotu Archipelago – Rangiroa
One of the best snorkeling and scuba diving stops is Rangiroa. We will have an opportunity to picnic on the beach then snorkel the translucent waters exploring the vibrant coral and fish that live here. An excursion to a local black pearl farm is also provided.
Aranui Cruise Day 13 - Society Archipelago – Bora Bora
A breathtaking blue lagoon with its iconic mountain towering in the middle, Bora Bora is famous for its small villages and aquatic activities. Stop for a visit on a private island or take a lagoon tour to see manta rays, sting rays, schools of fish or the world war 2 cannons perched on the mountainsides. Bora Bora is no longer included on Aranui cruise Marquesas itineraries. We can however add on a side trip to Bora Bora following your cruise.
Aranui Cruise Day 14 - Tahiti
Arrive around 9:30 am in Papeete, Tahiti when you will disembark from the Aranui 5 and say goodbye to an adventure of a lifetime.